Family Support Group Meeting Dates 2021-2022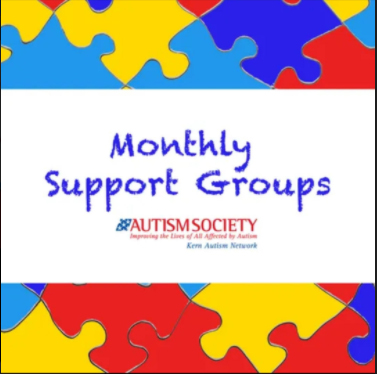 Location: 
Autism Society-Kern Autism Network Office Building
2200 Oak Street, Ste A
Time: 6:00 p.m. – 7:30 p.m.
Wednesday, August 18
Wednesday, September 15
Wednesday, October 13
Wednesday, November 10 
Wednesday, December 15
Wednesday, January 12, 2022
Wednesday, February 16
Wednesday, March 16
Wednesday, April 13
Wednesday, May 18 – Last Meeting for school year
NOTE: Childcare is NOT available during the support group meetings, due to our available space. 
RSVP is recommended but not necessary: 661-489-3335.  Topics vary for each of the groups with occasional guest speakers.  Support group is meant for those new to the diagnosis and veteran parents. We address the entire Autism Spectrum to include Asperger's Syndrome.  All are welcome to attend, including grandparents, caretakers and service providers for the family.