Scholarships
HIGH SCHOOL/COLLEGE- This scholarship has ended.
-The 2017 Autism Camp Scholarships for children/youth/adults:

will be available on a limited basis to children, youth and adults in the Kern County area with a diagnosis of Autism Spectrum Disorders. Scholarships vary and are used for approved camp registration fees. One scholarship entry per household. Applications must be filled out completely and submitted with proof of diagnosis (PDD-NOS, Autism, Aspergers). Applications are reviewed by Autism Society-Kern Autism Network. If you are interested in a scholarship application, see the attached file to print off the application. If you would like more information, please call(661) 489-3335. Deadline for submission is May 31st or when the spaces are filled! These will be on a first come first served basis. Scholarship applications with proof of DX-IPP, IEP/Psych Report can be sent via scan & emailed: kernautism@gmail.com, faxed: 661-489-3334 or brought to our office in an ENCLOSED envelope to: 1712 19th Street, Suite 110. All scholarships are offered as a first come first served basis and fill fast. All awarded scholarships will be notified by June 1st. Please do not contact the agencies providing the service.
The following camps occur during June, July & August 2017 with Kern Autism Network-Autism Society. Click on each for detailed printable information.
–Private Swim Lessons CLOSED
–ART CAMP LESSONS 2017 CLOSED
–M.A.R.E. Camp2017 CLOSED
–2017 SUMMER CAMPS -CLOSED
–SCHOLARSHIP REQUEST FORM 2017 CLOSED
Camp Sponsors/Donors for 2017: Wells Fargo Bank, Midway Sunset Cogeneration Company, Baron's Autos Parts, Holder's Mechanical, Holder's Air Conditioning & Heating, Golden Empire Transmission & Clutch, Hooters of Bakersfield, Pappy's, Spencer's, Bakersfield Karting Experience, Flame Burger, Maya Bakersfield 16, Fitness 19, Sam's Club Bakersfield Store, LaTiDa Boutique, Don Perico, Brooklyn's BBQ, Bakersfield Sports Nutrition, Tehachapi Tatoo, Sign Tek, RAD Custom Graphics, Les Schwab, Incognito Design, Victory Circle Chassis & Parts, KP Production, Scott Schweitzer, Bakersfield Speedway Racers, Friends and Families.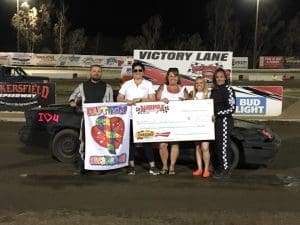 Camp Sponsors/Donors for 2016: Terry Bedford Concrete Construction Inc., Hall Commercial Vehicle Service, Inc., Kaliert Family, Budget Bolt, Sun Coast Material, Holders Air Conditioning & Heating, Dan Fabbri Farms, A-1 Automotive, Shawn Schwattzenberger Team S-15 Racing, Baron's Car Quest, Pour House, Golden Empire Transmission, Colombo Construction Co. Inc., Holders Mechanical Inc., Ryan Smith Motorsports, Pappy's Coffee Shop, The Wild, Elephant Bar, Corner Bakery, Temblor Brewing Company, Don Perico, Regency Lanes Bowling Center, Spencers Coffee Shop, Maya Cinema 16, Chuy's, Les Schwab Tire Center, Bakersfield Used Cars, Arne R. Oftedal CPA, Speedy's Taco Bar & Grill, Bakersfield Speedway Racers, Friends and Families.